When did I get saved?
I got saved at 9 years old but I got serious in my 30s
How did I hear about Savior Connect?
About Me
Associate PastorSong WriterBusiness Owner- BerryWay Enterprises AuthorHusband Fatherberrywaymusic.co... View More
Wall Comment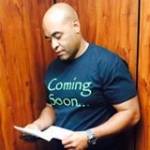 Check out DjIrockJesus
This content isn't available at the moment
When this happens, it's usually because the owner only shared it with a small group of people or changed who can see it, or it's been deleted.